I promised it, so here it is.. The game now has a save game feature. 🙌🏽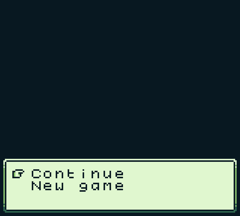 If you already played the game, it will asks you to either continue your previous game, or start a new one (which erase your current save).
This update also brings following important changes:
A bug fix:

Avoid rocks (or anything else solid) being blocked by destroyed bushes

A screen transition enhancement:

Removed previous fade in/fade out overlay effects
Replaced them with a 'replace color' effect to mimic GameBoy's 4-color gradient effect
I think I won't update this gamejam project anymore (unless someone find a critical bug).
I will keep it as it is now, and start working on what's next.
Yes, what's next ?
Well, I had so much fun building AGS that I decided to go further with this game jam entry.
This means you may expect a full-game version coming later. I don't know yet when it will be ready, but I plan to make 'A Ghost Story' a real game with around 4 to 6 hours of gameplay with a complete story.
It's probably too early to say much for now, but keep in mind I'm busy on a full-game version.. 🙃
Again, thank you very much for playing and supporting me!
Ghostly yours,
– Antoine
Files
aGhostStory_v39--stable_html5.zip
Play in browser
Sep 05, 2019
aGhostStory_v39--stable_linux32.zip
83 MB
Sep 05, 2019
aGhostStory_v39--stable_linux64.zip
79 MB
Sep 05, 2019
aGhostStory_v39--stable_mac64.zip
107 MB
Sep 05, 2019
aGhostStory_v39--stable_win32.zip
73 MB
Sep 05, 2019
aGhostStory_v39--stable_win64.zip
77 MB
Sep 05, 2019
Get A Ghost Story - GBJAM 7