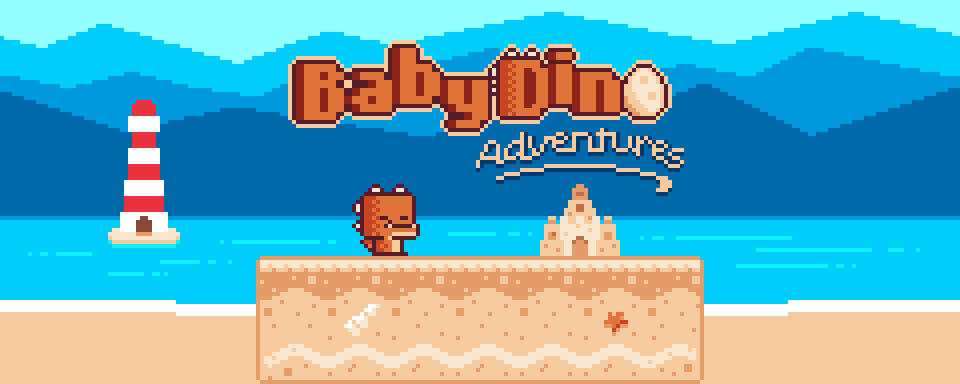 Baby Dino Adventures (Early Access)
Following your feedbacks with the recent local co-op update release, I decided to postpone the next devlog post and focus on following bugfixes/enhancements that you reported/asked for.

No new content again, but these changes should make your overall gaming experience (solo or co-op) much better.
Here is a complete list of what to expect with this update.
New features
Coyote Time
Following lots of players request, I added a coyote time feature to Baby Dino. Once Dino starts falling, players will still have 0,15 seconds left to jump. This should prevent to accidentally fall or miss a platform in lots of situations.
Bounce on other players
Jump on other players head to bounce in the air. Also added the possibility to jump and bounce on bubbled players.
Windowed Mode
From the Options menu, players can now switch between "Fullscreen" and "Windowed" mode. Game is fullscreen by default. In windowed mode it is possible to move the game window around your computer screen but also to upscale or downscale it. Pixel ratio is kept so you may see black spaces depending on how you downscaled/upscaled your game window.
Enhancements
No more fall damage
Previously if a player was falling for at least 2 seconds, that player would lose one heart when landing on a platform. Lots of players complained about it so I decided to remove it.
Smooth camera
When playing in local co-op, camera will now zoom out/zoom in smoothly (depending on distance between players - max range set at 16 tiles) before popping furthest players into bubbles.
Translations
New terms ready for translations related to the Windowed mode option:
Bug fixes
If a player jump on a metal crate with an arrow up icon, all players were jumping as well. Now fixed. Big thanks to @lilou_cormic for reporting this bug;
Fixed a bug where in local co-op if a player enters in collision with a seagull, it will make other players collide as well. Big thanks to @lilou_cormic again for this bug report;
Fixed several issues where sometimes in local co-op, players could fall through moving platforms;
Fixed several issues where players weren't able to pop-out bubbles of other players in local co-op;
That's it for today.
Thank you very much for playing the game, and for sharing your feedbacks with us. This really helps us understand what you guys are expecting for, and helps us shape a better game. There is still tons to do, so I'm going back to my (huge) task list for this 3rd world.
Talk to you soon,
Antoine G.
Files
BabyDinoAdventures128-004-stable_linux.zip
258 MB
Apr 21, 2022
BabyDinoAdventures128-004-stable_mac.zip
125 MB
Apr 21, 2022
BabyDinoAdventures128-004-stable_win.zip
212 MB
Apr 21, 2022
Get Baby Dino Adventures (Early Access)