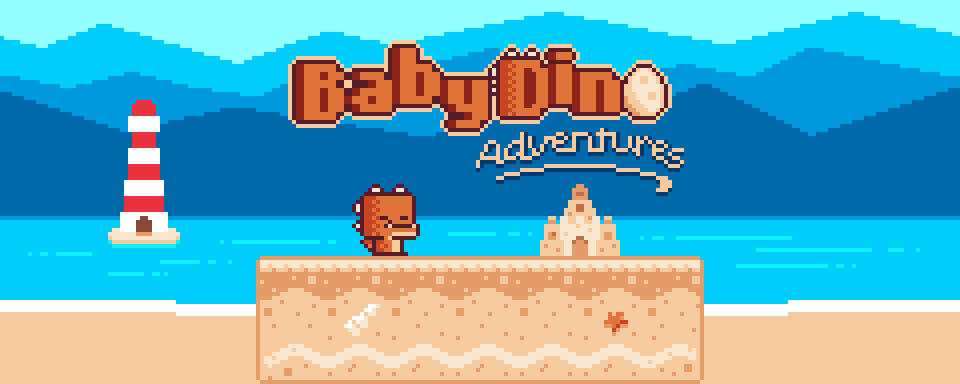 Baby Dino Adventures (Early Access)
Hello dino's,

While we already started working on the 3rd environment of the game (Cave/Mountain), we thought it was time to provide you with a small update. This one brings lots enhancements and bug fixes that you reported us these last 2 months after the Beach update launch and should make your gaming experience way better.
You can view the full changes list below.

Installation reminder
Once you downloaded the update and launched the game, make sure you're playing the version 122. If not, you will probably need to uninstall and reinstall the game.
Since we made lots of changes on the structure of the game again, you will need to play it back from its beginning. I'm still thinking about a better solution and I hope to provide it within the next content update.
In the meantime, find below a save game file that you can use to start directly at the first boss fight right after the level with the snail (Shelldon).

Here is the install instructions:
Download the following save game file: gamedatas.json
Once you updated the game - and before you play the new version - browse local files of the game
Select your operating system folder (probably win64 )
Open the package.nw file (this is like a ZIP or RAR file)
Copy-paste the gamedatas.json file into the root of the package
Run the game, and on the start screen select "New game"
You should be redirected to the overworld map screen and see baby dino right on the snail level spot with all previous Forest levels unlocked
If you run into troubles, make sure to join our Discord server so we can help you.

Here is a complete list of all changes included in this new version:

Enhancements
You can now play with either your keyboard or gamepad at the same time. No need to go to settings and change the input type. For example, you can play with the gamepad and still navigate through menus using your keyboard.
Audio settings added to Options menu. You can now setup music and SFX volumes separately on the start screen, or when you pause the game.
On the overworld map, you can now go back to start screen anytime if you press the Esc key or press following gamepad buttons: Back/View, Y, or B.
Secret areas in Forest levels should be easier to find now.
Roxy will now destroy all remaining grey breakables at once
Removed the boss life bar and replaced it with hearts
Optimized giant crab sprites (a big thanks to lionsnbees for their help)
Added a shortcut at the end of level 16 (Beach level with seagulls) to allow quicker level completion and made the secret area more easily visible (a big thanks to Dark_Lake89 for the idea)
Wood board traps in Beach levels should now trigger when players land on them, and not when they overlap them
Translations
Fixed a couple of typos for English and French
Bug fixes
If player destroys a crate with his head, crate is now destroyed automatically
If a solid crate falls on player's head, he loses one heart
Crates spawned by transparent crates no longer spawn steaks (in Beach Level 1, spawned steaks were upside the water and could lead to player frustration as there is no way to collect them this way)
Sometimes VFX like "Zzz " animation were not following player's position every tick while he is sleeping on a floating box or on sparkling water (as seen in Beach Level 15)
Sometimes when player saves language changes, the game didn't translate in the right language
If current level has been completed already by a player, dialogs will no longer trigger automatically (as initially). You can still trigger dialogs manually if you need to (for story or to complete NPC missions again). A big thanks to Bloodyspasm for this bug report.
Fixed a glitch where sometimes Baby Dino will keep flipping endlessly
Fixed an issue on following Steam achievements which were not triggered at the right time: "Meet the seagulls squad leader ", and "Photosensitivity "
Thank you for reading and for your amazing support,
- Antoine G.

A very big thanks to our patrons for their amazing support:
And also to our Discord community for their precious help!

Here are a few ways to get in touch:
Files
BabyDinoAdventures122_linux32.zip
104 MB
Apr 10, 2021
BabyDinoAdventures122_linux64.zip
99 MB
Apr 10, 2021
BabyDinoAdventures122_mac64.zip
120 MB
Apr 10, 2021
BabyDinoAdventures122_win32.zip
81 MB
Apr 10, 2021
BabyDinoAdventures122_win64.zip
86 MB
Apr 10, 2021
Get Baby Dino Adventures (Early Access)