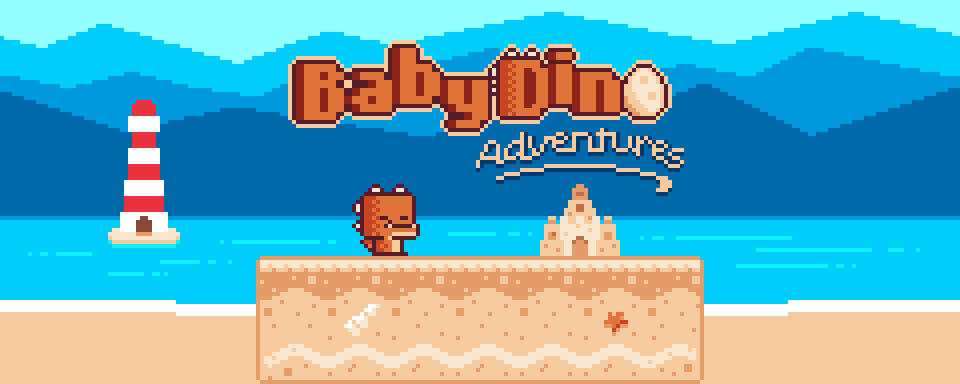 Baby Dino Adventures (Early Access)
Content Update #1 - New Beach Environment (v117)
---
You have been waiting for months since the initial Early Access release, and we are glad to officially announce the first content update of Baby Dino Adventures!
In a nutshell, here is what is included in this major update:

The very first boss of the game
9 new levels featuring the Beach environment
3 new npc's to meet
5 new achievements to unlock
New translation languages: Danish, Portuguese, Spanish Latino America, and Turkish
We also added a bunch of visual improvements, several bug fixes, new SFX, and songs.
Installation note
Since we made lots of changes on the structure of the game, you will need to play the game back from its beginning. I know it can be annoying so a better solution will come with the next content update.
In the meantime, we have a save game file that you can use to start directly at the first boss fight right after the level with the snail (Shelldon).
Here is the install instructions:
Download the following save game file: gamedatas.json
Once you downloaded the game, unzip it
Select your operating system folder (probably win64)
Open the package.nw file (this is like a ZIP or RAR file)
Copy-paste the gamedatas.json file into the root of the package
Run the game, and on the start screen select "New game"
You should be redirected to the overworld map screen and see baby dino right on the snail level spot with all previous Forest levels unlocked
Have fun!
Share your feedback
While you are downloading this update or playing it already, keep in mind we're currently chasing bugs and improving any little glitches to provide some patches asap.
We'd love to hear from you so feel free to start a discussion on the Community Forum of the game or to join us on our Discord server if you prefer.
A new gameplay trailer + devlog video are on their way...
That's it for today.
Talk to you soon! 😄
Antoine
Files
BabyDinoAdventures117_linux32.zip
104 MB
Feb 10, 2021
BabyDinoAdventures117_linux64.zip
99 MB
Feb 10, 2021
BabyDinoAdventures117_mac64.zip
120 MB
Feb 10, 2021
BabyDinoAdventures117_win32.zip
81 MB
Feb 10, 2021
BabyDinoAdventures117_win64.zip
86 MB
Feb 10, 2021
Get Baby Dino Adventures (Early Access)